This article is in preview
Photo by Lance Asper on Unsplash
The Current Tide (Q2 2021)
Soon it will be five years that SciFlow exists, and following the fact that there is always something new still, here follows the first issue of our Current Tides. This format presents the most recent developments and currents around SciFlow, its text editor, and other corresponding projects.
Covered in this issue:
Editorial
Judging by SciFlow's journey to this point, one central motif stands out for us in particular, and that is connectivity. We believe academia also mirrors this motif in several ways. For one, every scholarly text relates to the academic discourse through references and referents. However, this linkage extends beyond the pure level of contents. The variety of available reference managers, bibliography formats, and word processors needed to produce an academic text illustrates this motif on a technical level. If one further considers the various formatting requirements placed on bringing all of these parts together, the result is a vast network of content, contextual, and formal nodes.

Ultimately, this is precisely the motivation that gave birth to SciFlow, to bring these elements together and make them accessible in one place. Accordingly, it seems only logical that sustainable implementation of this goal works best in collaboration with other actors within this network. We are therefore extremely happy and satisfied with the partnerships we have been able to initiate recently. We can welcome Lehmanns Media and Books on Demand as investors and present the implementation of Duden-Mentor, LanguageTool, and ORCID as feature enhancements in the editor.

Just as a thesis or paper can never be viewed in isolation, we can never achieve the goal of simplifying the scientific writing process in isolation.
What's New?
What happened in the last quarter? Here we go into what has happened in the previous three months and what we think about it.
The New Spellcheck Feature
Probably the most noticeable change in the new year is the addition to the sidebar. Since the end of February, the Spellcheck menu offers the possibility to check documents for typos and other spelling errors.


This is made possible by the cooperation with two spellchecking tools: The integration of LanguageTool checks texts in English. The support of Duden-Mentor also allows proofreading of German texts. That means, for example, that it's entirely possible to review an English abstract in a paper otherwise written in German.

We feel this release is a seamless continuation of our goal to simplify the academic writing process. After all, the faster and easier typos are found and corrected, the more time one can devote to the actual content.
SciFlow Opens the Doors for ORCID
Or does ORCID open the doors for SciFlow? Whatever way you may want to spin it, we are very thrilled with the result of this liaison. Employing one's ORCID ID number now synchronizes personal author data and affiliations denoted on ORCID directly with the profile on SciFlow.



This shortcut not only results in simplified maintenance of your data for papers or manuscripts but also leads to a new author menu in SciFlow, including a polished interface and a new depth of detail.

Fortunately, this feeds several birds with one scone. In addition to the improved accessibility of the menu, collaborating authors' information is now adjustable per project. If necessary, admins can therefore alter author data and affiliations of contributors within the scope of that one document.
New BMBF Project: Academic Publishing Suite
In cooperation with the Friedrich-Alexander-University Erlangen Nuremberg and the Martin-Luther-University Halle SciFlow was able to secure funding from the BMBF (Federal Ministry of Education and Research) for a new project. The core focus lies on the Open Source Academic Publishing Suite (OS-APS), which intends to enable media-neutral publishing.

The goal is to offer XML-based workflows that enable the automated creation of export formats in the desired publishing design without specific knowledge requirements. Since this also avoids cost-intensive editorial and content management tasks, this offer also caters to smaller university or medium-sized scientific publishers.

The development of OS-APS is done by relying on and extending open source components such as OJS, OMP, and Pandoc. Thus, products created for the suite can also be open source.

The funding period for the OS-APS project is two years, and the journey only begins here. However, the idea of using SciFlow to simplify scientific writing to extend the facilitation of digital publishing seems to be a logical next step for the future anyway. Therefore, we are looking forward with confidence and optimism to the future development of this project.
Template of the Quarter: Report Template
Not everything has to be about academia: Our report template provides a basis for any kind of document that requires reliable formatting for various official or unofficial occasions.

Included in the report template:
Title page incl. table of contents
Running header
Page count
Freely selectable citation style
SciFlow Box of Tricks
Over time a diverse array of tips, tricks, and hints has formed on how to overcome specific but also more general hurdles of scientific writing with SciFlow.
Trick out of the box for: Journal authors who need to upload figures separately.
Simply add and name the desired figures in the editor. When exporting with templates requiring separate uploading, SciFlow only inserts the name and annotations in the chosen place automatically.

Trick out of the box for: The one assignment paper that needs an abbreviation list.
For abbreviation lists in SciFlow, simply use a table with two columns: One column for the abbreviations and the other for the explanations. Leaving the caption for that table empty prevents it from appearing in the table directory.
Home Office Is Where the Heart Is
A year of the pandemic is over, and in many cases, it is synonymous with the home sweet home as the personal workplace. Here, we look at our own four walls as an office with a laughing and a crying eye. It's still unclear whether this is supposed to serve as a balancing place for our readers or a coping mechanism for ourselves. But hey, why not both?

New occupations of the pandemic: Home Office Feel Good Officer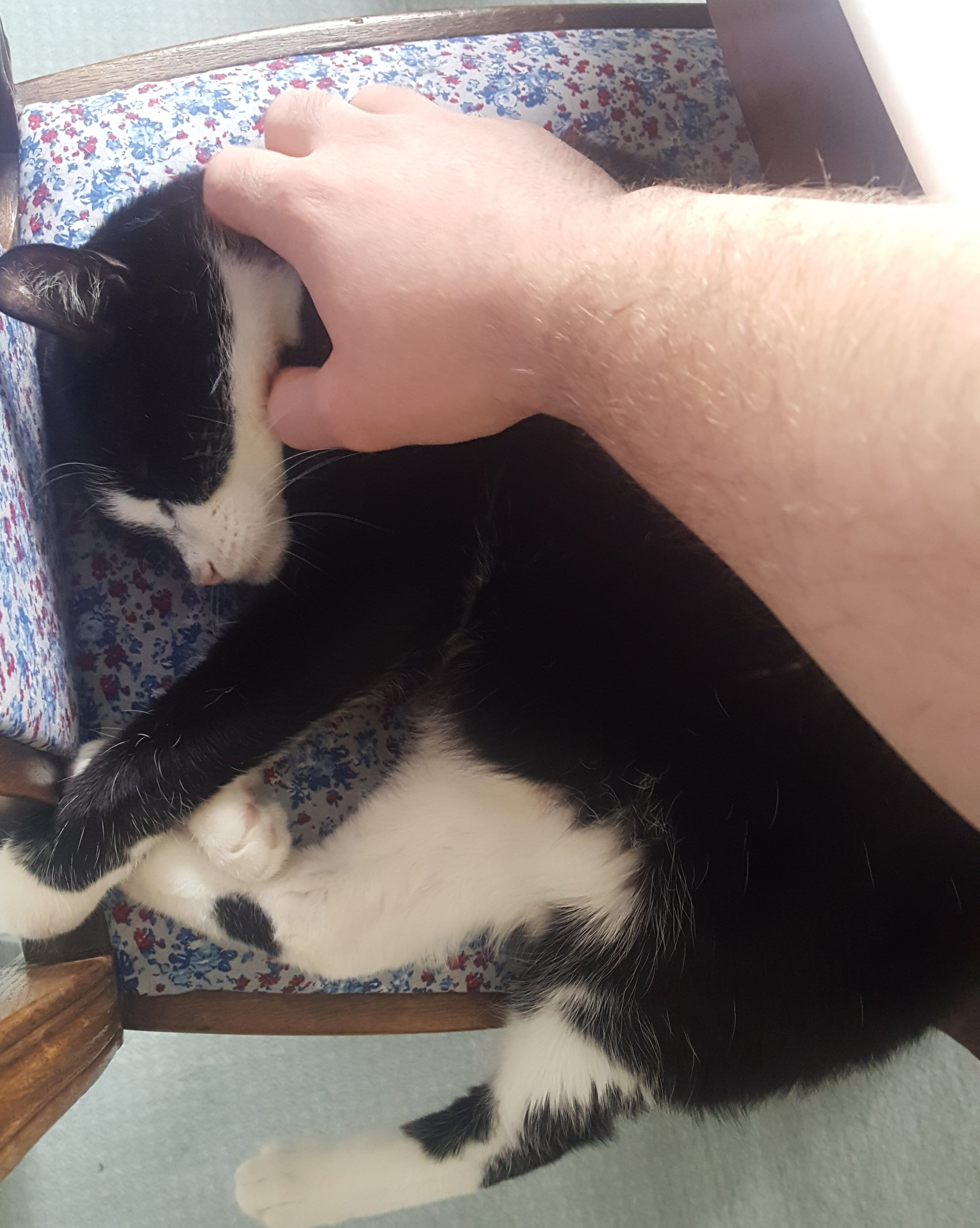 Otherwise highly inappropriate, this member of my home office is paid in endearments and cuddles.
What's on SciFlow's Mind
This glimpse into the possible future begins with a look back. Because the development of SciFlow up to this point has been shaped by our users' feedback and practical wishes, this is what we want to continue, which is why the next planned feature is close to our hearts: Change Tracking in SciFlow.

This idea does not come spontaneously and has been part of our considerations for the further development of SciFlow for a long time - not least due to the explicitly expressed interest of our users. As our small team has grown steadily over time, we now feel ready to address this issue appropriately.

Due to the great interest in this feature, we are well aware of the diverse and different expectations attached to this undertaking. As in previous years, our premise is to keep an open ear and mind, involve our users, and use their feedback to create adjustments and improvements to achieve a reliable result. Ultimately, change tracking is not a prestigious project for us but a genuine part of our efforts to make the collaboration process more pleasant and efficient between all co-authors.